Types of Nissan Oil Changes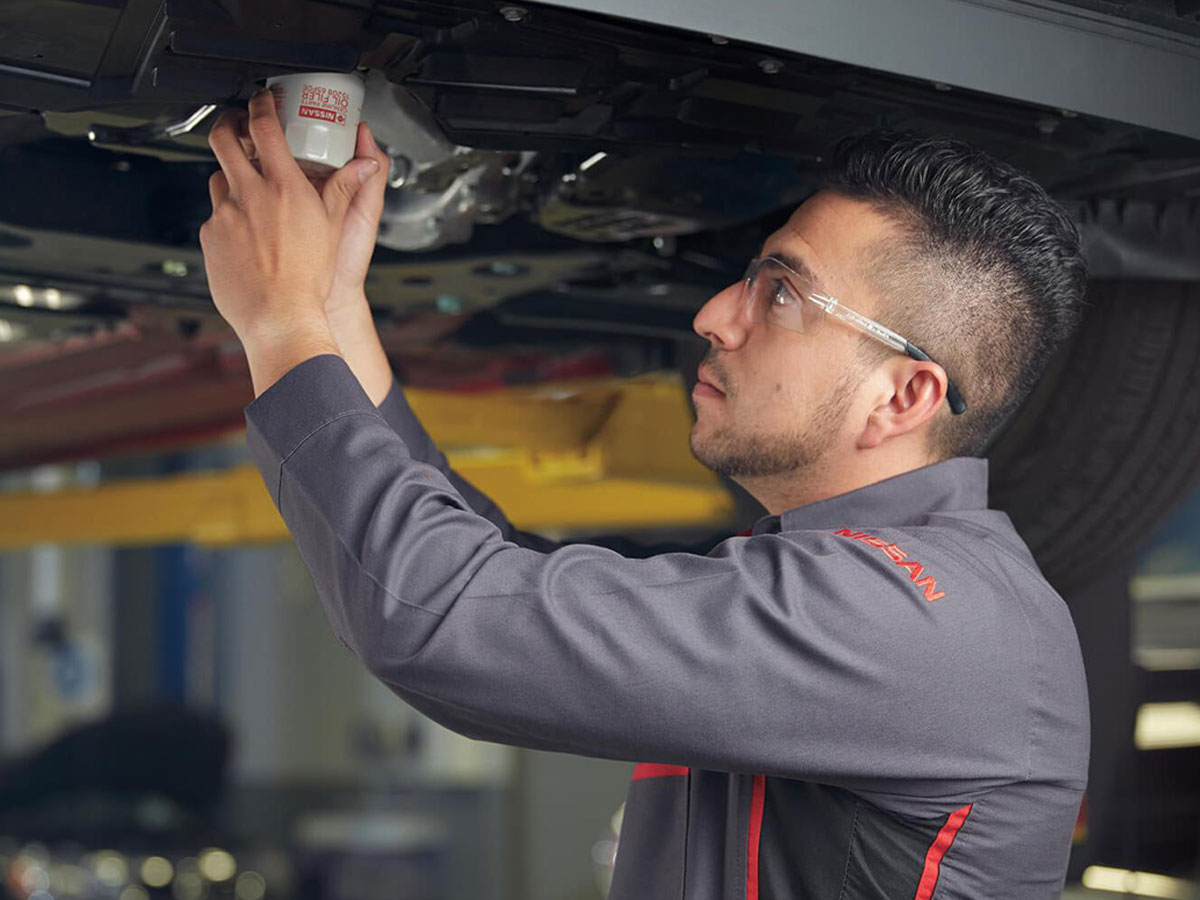 Oil Change Services in LA
There is no more cost-effective way to keep your Nissan running smoothly today, and tomorrow, than having your vehicle's oil regularly changed. Here at Downey Nissan in Los Angeles, CA, we offer convenient and courteous oil change services for all types of Nissan vehicles. We're confident if you come in for an oil change you will understand why so many of our customers in Los Angeles and surrounding areas of Downey, Norwalk, and Lynwood, CA, choose us for their Nissan oil change services.
---
Oil Changes Are Essential
Luckily most people know they should get their Nissan vehicle's oil changed regularly. But too often at Downey Nissan, we see customers who often ignore their vehicle's notification to change their oil or push past the date on their oil change sticker by thousands of miles.
Soon enough, an oil change can become a "back burner" task relegated to another day. That's why Downey Nissan is committed to making oil changes fast and easy, so you don't risk your vehicle's health by putting off a much-needed oil change. Our technicians perform oil changes on all types of vehicles, including those requiring conventional, synthetic, partially synthetic, and diesel engine oil.
The reason your vehicle requires regular oil changes is due to the fact that engine oil's viscosity, or ability to maintain the correct consistency to flow throughout your engine, deteriorates over time. This is normal and accounts for the need to regularly change your vehicle's oil. However, as you push past the recommended time to change your oil, the risk of contaminants and poor flow can result in damage to your engine and its various components.
Don't delay, come into Downey Nissan today and speak to one of our friendly and knowledgeable service advisors about what kind of oil change and oil type is best for your vehicle.
Expert Oil Change Services from Downey Nissan
Downey Nissan in Los Angeles, CA, is committed to providing unparalleled service with a smile. We pride ourselves on our knowledgeable service advisors who empower our customers with information and choices to suit their needs. We also employ certified Nissan technicians to maintain the highest standards of quality and only use OEM Nissan parts to ensure a proper fit and performance. Downey Nissan is also happy to offer monthly service specials to help your wallet too! Your comfort is also important, which is why we serve complimentary Starbucks, tea, coffee and complimentary snacks in our luxurious waiting lounge while you wait.
Don't hesitate to bring the kids to Downey Nissan, as we also boast a kid's play area! To keep you on schedule and on the road we also offer complimentary loaner vehicles. Now that you know all the reasons our customers keep coming back, reach out and call or visit us online today to schedule your next oil change at Downey Nissan!
---
Downey Nissan Service Center Amenities
Kids Play Area
Complimentary Starbucks Coffee
Complimentary Snacks
Beautiful New Facility
Luxurious Waiting Lounge
Monthly Service Specials
Certified Nissan Technicians
Friendly and knowledgeable Service Advisors
Complimentary Loaner Vehicles*
Hot Tea
---