Norwalk, CA Nissan Oil Change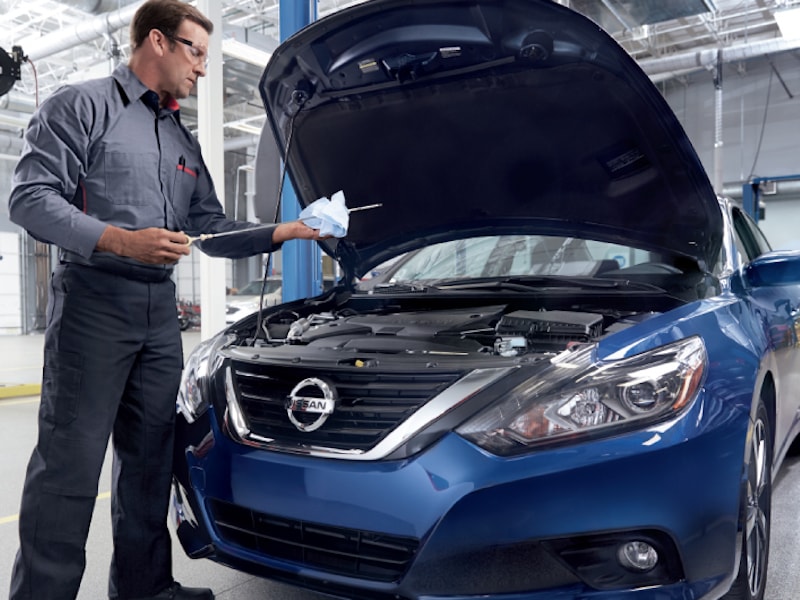 Norwalk, CA Nissan Oil Change
Clean motor oil is a must for your Nissan. Changing the oil regularly should be a priority maintenance task. Unfortunately, in today's busy world, it can be difficult to find time to get the oil and oil filter changed. The oil, however, plays a major role in keeping the engine functioning properly. It both lubricates and prevents the build-up of sludge in the engine. At Downey Nissan in Los Angeles, CA, our team of certified technicians work hard to make caring for your Nissan easier. We are also happy to serve the communities of Downey, Norwalk, and Lynwood, CA.
There are several types of motor oils on the market today. The one that your Nissan needs depends on the year and model of the vehicle.
Some recent makes use newer synthetic oils. These oils don't need to be changed as frequently as conventional motor oils. Also, they tend to perform better in harsh weather conditions or heavy towing situations. However, synthetic oil is not recommended for every vehicle. Using it in older vehicles, those with over 100,000 miles, can actually cause damage to the engine. Blends that combine conventional oil with synthetic are also available.
Our technicians are highly trained in the range of Nissan models so they can recommend the best oil for your vehicle. They also know the maintenance schedule guidelines recommended by Nissan. They will advise you on how often the oil should be changed and the type they suggest.
---
Keeping Your Oil Clean is Important
Motor oil, like other engine fluids, gets contaminated and degrades over time and use. When it begins to lose its viscosity, your Nissan won't perform as well as it should. Traditional guidelines suggested that vehicle oil should be changed every 3,000 miles or three months, whichever came first. Modern chemistry in the motor oil industry has produced new oils such as synthetics and blends. This has changed what manufacturers tell vehicle owners. The best bet is to follow Nissan's maintenance schedule in the owner's manual and rely on a knowledgeable technician for guidance.
Getting the Oil Change You Need
Whether your Nissan needs synthetic or a conventional oil change, it is important that you follow the maintenance schedule for your model. By delaying the oil change, the engine can develop significant issues. You'll experience lower fuel efficiency. As the oil becomes more contaminated with impurities, it loses its lubrication qualities and ability to protect the engine. Ultimately, contaminated oil can severely damage the motor.
Oil Changes at Downey Nissan
When you come into Downey Nissan in Los Angeles, CA, you'll be met with a friendly staff to take care of your Nissan. For your convenience, we created the Express Service Center so that you can get in and out for an oil change quickly and easily.
---
Downey Nissan Service Center Amenities
Kids Play Area
Complimentary Starbucks Coffee
Complimentary Snacks
Beautiful New Facility
Luxurious Waiting Lounge
Monthly Service Specials
Certified Nissan Technicians
Friendly and knowledgeable Service Advisors
Complimentary Loaner Vehicles*
Hot Tea
---