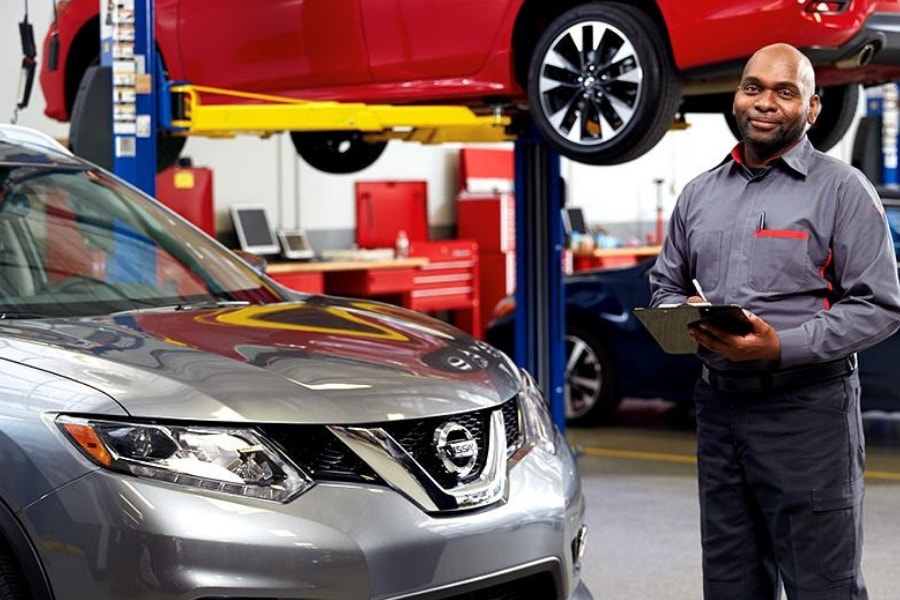 Nissan Engine & Fuel System Testing
When it comes to keeping your Nissan vehicle running smoothly, the certified technicians at Downey Nissan have you covered. At Downey Nissan in Los Angeles, CA, we can help you with a variety of issues, big and small. If you suspect you may have a fuel system leak then you need to have your vehicle examined by experienced, certified technicians, so don't delay and come into Downey Nissan today!
---
Signs of Fuel Leaks
Your fuel system is integral to a properly functioning vehicle, as it moves the fuel from your tank and fuel pump into the engine. Fuel is also very combustible and susceptible to contaminants, which means your fuel system and fuel lines need to be properly sealed and maintained. There are times, however, when leaks develop.
A couple of common symptoms include your Nissan vehicle using more fuel than it typically does and strong odors of gasoline coming from your vehicle. Luckily, there is technology the certified, experienced technicians at Downey Nissan can employ to find the leak fast and effectively in your fuel system. Our technicians can employ a fuel dye test, which involves placing a dye in the fuel system and checking whether the dye stays within the system, or escapes the fuel system.
This saves time and money by revealing where any leaks exist in your fuel system. If you think you are experiencing any of the signs of having fuel system leaks don't delay, for both safety and performance reasons, and speak to our experienced service advisors today about having a fuel dye test performed.
Downey Nissan Service Center in Los Angeles
Downey Nissan in Los Angeles, CA satisfies customers in Los Angeles and the surrounding areas of Downey, Norwalk, and Lynwood, CA, by delivering affordable, convenient, and excellent service consistently. We also offer monthly service specials to help our customers save on their vehicle maintenance. While you wait for your Nissan vehicle to be serviced at our state of the art facility, there are many amenities for you to enjoy.
We offer complimentary Starbucks coffee and tea, along with complimentary snacks. We also offer a luxurious waiting area and a children's play area as well. You can also feel good knowing that our certified technicians will only use genuine OEM replacement parts on your Nissan vehicle. Lastly, we offer courtesy loaner vehicles to keep you on the road!
---
Downey Nissan Service Center Amenities
Kids Play Area
Complimentary Starbucks Coffee
Complimentary Snacks
Beautiful New Facility
Luxurious Waiting Lounge
Monthly Service Specials
Certified Nissan Technicians
Friendly and knowledgeable Service Advisors
Complimentary Loaner Vehicles*
Hot Tea
---